This is an archived article and the information in the article may be outdated. Please look at the time stamp on the story to see when it was last updated.
SAN DIEGO — Prosecutors said Monday they will not file criminal charges against a San Diego police officer arrested twice in the past month on suspicion of battering his wife.
Gilbert Lorenzo, 31, was suspended last month for allegedly battering his wife in La Mesa and was re-arrested last week on suspicion of inflicting corporal injury on his spouse.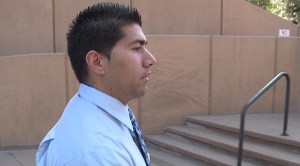 Lorenzo, a seven-year SDPD veteran, was booked into jail at 11:18 p.m. on May 5, according to the sheriff's online jail records. He was seen exiting the jail and getting into a taxi around 6 a.m. the next day after posting $50,000 bail.
Lorenzo, who is assigned to the SDPD Northern Division, was initially arrested by La Mesa police April 22 on suspicion of felony domestic battery and quickly posted $50,000 bail.
A spokeswoman for the San Diego County District Attorney's Office, Tanya Sierra, said her office can only file charges if prosecutors believe they can prove a case beyond a reasonable doubt.
Sierra said the decision against filing charges against Lorenzo came after a thorough review of the case.
Lorenzo, his wife and their young children live in La Mesa. Following the alleged battery incident in April, Lorenzo's 24-year-old wife, who did not require hospital treatment, came to his defense, saying he should not have been arrested.
SDPD Chief Shelley Zimmerman said someone alerted her department to the alleged battery incident in April and the case was quickly turned over to La Mesa police because that's where the crime allegedly occurred.
Around 2:30 a.m. on  May 6, Lorenzo's wife, Tanya, posted on her Facebook page, "Dear beautiful daughters next to me, your my purpose for thriving … us three can take on the world."