This is an archived article and the information in the article may be outdated. Please look at the time stamp on the story to see when it was last updated.
VISTA, Calif. — An Oceanside man accused of killing his wife and dismembering her body in their home pleaded not guilty Wednesday to murder and other charges.
Frederick Hengl, 68, was ordered held in lieu of $5 million bail in the death of 73-year-old Anna Faris.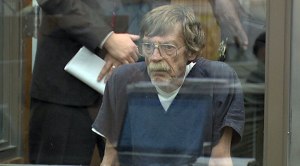 The defendant, who is also charged with willful cruelty to an elder and committing an unlawful act with human remains, faces 25 years to life in prison if convicted.
Deputy District Attorney Katherine Flaherty told Judge Marshall Hockett that police went to the couple's home on North Ditmar Street last Friday after neighbors complained of a very strong, foul odor coming from the residence.
Officers entered the home through a window and saw what they thought was meat cooking on the stove, Flaherty said.
After contacting the defendant at a nearby bar, police realized that he was in the process of dismembering his wife, according to the prosecutor.
"There was not instantaneous recognition on the part of the officers, understandably, on what it was they were seeing, but they put two and two together pretty quickly after he (Hengl) was contacted," Flaherty said outside court. "They (officers) did find the victim's head, which had been severed at the very top of the cervical vertebrae, in the freezer wrapped in a bag."
In the bathroom, officers found what appeared to be a work area, with a saw and boning knife and other cutting instruments, the prosecutor said. A bag with pieces of bone that had been freshly cut was also found in the home, Flaherty said.
The victim's cause of death is still pending. When the victim died is not known, although authorities said Faris was seen prior to Nov. 1.
Neighbors told reporters that they had not seen the victim in about a month and had heard what sounded like a power saw in use in the couple's home about two weeks ago.
Several people who live in the neighborhood said Faris had been behaving bizarrely since last spring, exposing herself, wandering around carrying a butcher knife and making religious pronouncements, telling people such things as "God will smite you."
Her husband, meanwhile, had been going out dressed in women's clothing, makeup and jewelry, neighbors told reporters.
The judge scheduled a readiness conference for Dec. 3 and a preliminary hearing for Dec. 5.