This is an archived article and the information in the article may be outdated. Please look at the time stamp on the story to see when it was last updated.
ESCONDIDO, Calif. – Recognized as one of the most prestigious cycling races in the world, and certainly in America, this year's Amgen Tour de California will start in Escondido.
"It's going to be a huge event," said Escondido Mayor Sam Abed.  "It will be a once in a lifetime opportunity to showcase our city."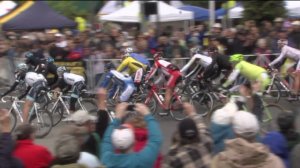 The 8 day race covers 750 miles from San Diego County to Santa Rosa in 8 stages.
The tour, now considered on par with The Tour de France in terms of difficulty and respect, attracts the most elite riders from all over the world. Over a hundred of the cyclists are either Olympians, world champs, or Tour de France stage winners.
Additionally more than 65 of the cyclists will go on to compete in the Tour de France later this summer.
During Sunday's stage one, cyclists will race about a hundred miles through all kinds of terrain, including a spring and three mountain climbs.  Fans can look forward to the grueling king of the mountain climb up Palomar.
"This year's course is one of the most challenging, if not the most challenging," said Kristen Bachochin, the race's executive director.
"We'll be climbing over 60-thousand feet in elevation over the 8 days with three mountain top finishes," added race director, Jim Birrell.
But it's not all about the athletes.  The city is expecting 60-thousand fans and tourists which will be a huge economic win for the city.
"That's just in our downtown area where the race will start and finish," said Michelle Gellar, Escondido's city management analyst.  "We have bars, we have restaurants, we have shops, and people who have never been to Escondido before are going to see if for the first time."