This is an archived article and the information in the article may be outdated. Please look at the time stamp on the story to see when it was last updated.
SAN DIEGO – A married couple in San Diego has not only reached the ranks among the best CrossFit athletes, they're considered the sport's cutest couple.
Dave Lipson and Camille LeBlanc-Bazinet now call San Diego home and train for Team Invictus, a group who currently ranks No. 1 in the world of CrossFit.
These lovebirds met while at a competition in 2010.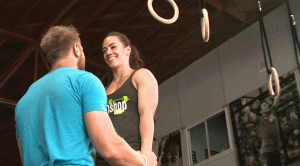 "I saw her come off the floor, speaking this funny language.  I thought 'it's too bad that girl is from the Ukraine because I would love to date her,'" Lipson said, who found at later that she was living in Quebec.
The two athletes started seeing each other at various weekend events and continued to get to know each other.
"There was no way that I could let this person escape from my life," said Lipson, who decided to move to Boston to be closer to her.
Lipson's humor won her over and the couple married last year.
"Humor was a big attraction and he's so sweet.  How can you not fall for him?" she said.
The couple continues to build their relationship at home and in the gym.  LeBlanc-Bazinet finished sixth place in last year's competition and has become one of the faces of the sport. She'll be competing at the Canadian CrossFit Regional competition soon.
Lipson has qualified for the CrossFit Southern California Regionals and will compete this weekend at the Del Mar Fairgrounds.