This is an archived article and the information in the article may be outdated. Please look at the time stamp on the story to see when it was last updated.
SAN DIEGO – CrossFit is a hardcore workout that pushes seasoned athletes to their limits and has some wondering if the workout is putting athletes at risk.
Eric Robertson, an assistant professor of physical therapy at Regis University in Denver revealed what he calls CrossFit's dirty little secret – rhabdomyolysis.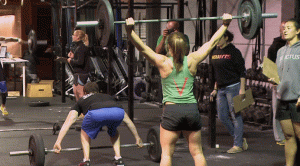 It's a condition that is rare, yet is commonly encountered in CrossFit, Robertson said.
Dr. David Fabi, an orthopedic surgeon at Scripps Health in Hillcrest explained rhabdomyolysis as a condition that results from someone overexerting themself.
"The muscles break down and it releases toxins, proteins and myoglobin," Dr. Fabi said.
Dr. Fabi said they travel through the body into the kidneys where they can result in kidney failure.
"It can be fatal, absolutely," said Dr. Fabi.
Dr. Fabi said he has seen several patients who suffered from the condition following high intensity workouts, and at least one of them came from CrossFit.
"Just use your common sense," said Dr. Fabi.  "If you feel like you're starting to hurt or hitting your limit just stop."
"I've been doing CrossFit for years and I still dry-heave a little bit when I do the workout of the day," said Chris Keith, owner of CrossFit 619, an affiliate in San Diego.
Despite the fact that some cases of rhabdomyolysis have been linked to CrossFit, Keith insists that CrossFit workouts are safe.
"The CrossFit company has since taken huge steps in preventing this from happening," said Keith.  "They do this by educating the coach and trainers on how to progress athletes safely."