This is an archived article and the information in the article may be outdated. Please look at the time stamp on the story to see when it was last updated.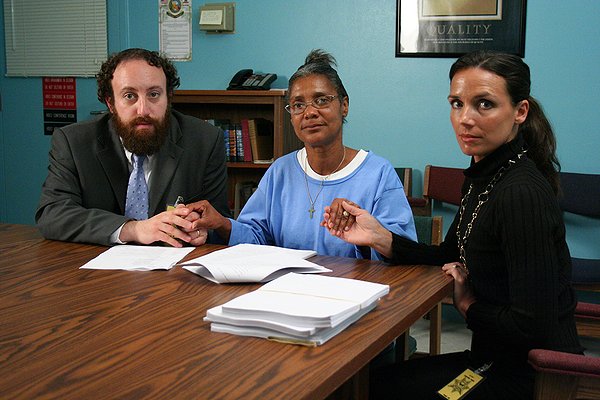 I get bothered by legal dramas because they're often so unrealistic. The day I saw this movie, my friend was telling me he rented Lincoln Lawyer and loved it (a mildly entertaining movie that was ridiculously unrealistic).
When nothing is on TV and I watch a show with real legal cases, they're always fascinating and suck me in. This documentary is an hour and a half version that is engrossing.
Hours before attending on opening night, I heard the news that the "West Memphis Three" in Arkansas were being released from prison. They were convicted of slaying three Cub Scouts two decades ago, and their story somehow got lots of celebrities behind them and the notion they were wrongly convicted. Those stars include Johnny Depp and former San Diegan Eddie Vedder.
The jury seems to be out on the West Memphis Three (some of the victims parents think they're innocent, one still thinks they're guilty).
The documentary Crime after Crime follows an equally unbelievable real life event, but one that everyone will agree should result in the protagonist being released from prison.
In 1983 Debbie Peagler had her boyfriend – who was also her pimp and father of her two kids – murdered. Now hearing that, I thought I'd never have sympathy for her, no matter how filmmaker Yoav Potash (a San Diegan) couched it.
Peagler got 25-to-life, but as the facts start coming out, you cringe with each bit of information you're exposed to.
First, she merely told the Crips gang that lived in her apartment, to rough him up at the park. This was after she had already called the police when he showed up with his friends, waving guns around and threatening people.
Not to mention the fact that he had repeatedly abused her before this, and molested their young daughter.
Second, the Los Angeles D.A. decided she did this for the life insurance. It was a policy her boyfriend took out on himself, and that paid a whopping (drum roll please)… $17,000 (much of which she used for his funeral).
Third, the D.A. was going to give her the death penalty (and this particular gang unit had a 100% success rate getting that sentence), unless she pled guilty.
Oh, there are lots of other frustrating things you find out along the way, but I'll let you discover them for yourself.
I was moved by the fact that Peagler's boyfriends family even came to her defense.
One talked about how arrogant he was, another talked about how if this had happened to a person she didn't know – she'd be on the side of the person that had the guy killed. Her logic was perfect.
Since this guy was the son of an abuser, and we've all heard those statistics and how
abused kids often end up doing that to their children, you can't help but think about that. I did find one thing frustrating that the filmmakers danced around.
A law was passed after this case that said you can bring up the abuse in the trial. Peagler wasn't allowed to. There is a slippery slope. I wondered if a neighbor was shot and killed, could the woman tell us her husband was so abusive towards her that it caused her to act out on others?
I also wondered about the scene late in the movie where the state seems willing to let her out (after serving 23 years), if she'll sign a statement that she can't sue them.
Her two lawyers – perhaps the nicest lawyers you'll ever meet – decide against this. And she doesn't get out.
These two attorneys have spent years of their own time and money on this case. They usually handle real estate, not criminal law.
As much as we like the Orthodox Jew Joshua Safran and the long-distance running Nadia Costa – when we hear Safran talk about the abuse he watched his mother endure, and Costa talk about abuse she suffered through (being more vague) – you wouldn't be able to cast it better if it were a Hollywood film (Paul Giamatti would surely play him though, if they're thinking about it).
And even the Sydney Pollack looking private investigator brings some nice flavor to the film.
When we see Peagler starting to go gray later in the movie, and we see repeated attempts at getting her released fail – it's tragic. The bureaucratic nightmare was something you didn't think happened in this day and age.
It's one of the rare movies that you'll talk about for days after, and probably won't ever forget.