This is an archived article and the information in the article may be outdated. Please look at the time stamp on the story to see when it was last updated.
JULIAN, Calif. – County crews were working diligently Thursday to clean up several rock slides in Borrego Springs caused by weekend flash flooding.
Borrego Springs and Julian have both recently been hit hard with rainfall.
"T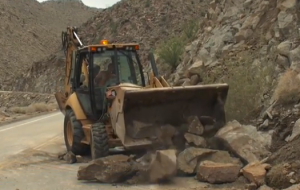 he rain comes down and washes out the fine material that's holding the fractured rock together," said Anthony Ariosta, Department of Public Works. "What happens is the weight of the rock ends up slipping, falling out into the road."
Shannon Desouza lives and works at Cuyamaca State Park and said the worst weather was on Sunday night.
"We had a couple inches of rain in a really short amount of time," said Desouza. "I actually missed the downpour. I left for two hours and I came back and there was just rivers of mud going through the campground."
Officials said Montezuma Valley Road will remain closed until September 4.
San Diego County's Department of Public Works is now offering free sand and bags for residents in those unincorporated areas.  They can be picked up at CalFire Station 50 in Julian, located at 1587 Highway 78.
Free bags are available to put sand into at the San Diego County Sheriff's Substation in Borrego Springs, located at 571 Palm Canyon Drive.