This is an archived article and the information in the article may be outdated. Please look at the time stamp on the story to see when it was last updated.
ESCONDIDO, Calif. — A fire that charred about 28 open acres north of Escondido was 70 percent contained Monday.
The so-called Gopher Fire was reported in the vicinity of Gopher Canyon Road and Interstate 15 shortly after 11 a.m. Sunday. It grew to about 10 acres within 90 minutes, according to Cal Fire.
The fire prompted authorities to close the entire freeway for a time, but all but one southbound lane and an offramp were later reopened. Power pole damage caused a temporary electrical outage to about 300 area utility customers.
One firefighter suffered a minor injury while working to extinguish the blaze, according to Cal Fire.
Drivers fleeing a brush fire drove the wrong way on Interstate 15, and firefighting helicopters were called in as flames jumped the freeway north of Escondido Sunday.
#GopherFire [update] IC reports 10 acres, approx 5 homes immediately threatened. Both directions of I-15 and Old Hwy 395 closed in the area pic.twitter.com/rqrwHD08ID

— CAL FIRE/SAN DIEGO COUNTY FIRE (@CALFIRESANDIEGO) November 13, 2016
Wrong-way drivers were using both the right and left emergency lanes, as four lanes of freeway traffic continued to stream north towards the fire. And residents along a dead-end road near the fire reported it had filled with vehicles seeking to get away from the fire on Old U.S. 395.
#fire near Gopher Canyon Rd on #I-15
No one on scene yet 😬 pic.twitter.com/rVUGek0tP1

— Ciara Green (@CiaraEGreen) November 13, 2016
Firefighters contained most of the blaze to a steep hill on the west side of the freeway, and said the freeway was closed due to possible damage to power poles that hold wires above it.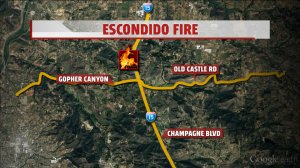 Seventy firefighters had been assigned to the blaze, Cal Fire officials said. No official evacuations were ordered.
There was no immediate identification of a cause for blaze, Sanchez said.