This is an archived article and the information in the article may be outdated. Please look at the time stamp on the story to see when it was last updated.
Update: School officials say they've identified a person of interest in the threat made against Southwestern's campuses, and that there is no longer considered to be any safety risk. Classes will resume Friday.
CHULA VISTA, Calif. – School officials ordered the evacuation of all of Southwestern College's campuses because of a "credible threat" Thursday.
"We are working with our College Police to investigate a credible threat that we received from a student. In an abundance of caution while we investigate, the college is cancelling all classes and evacuating all campuses. We will post updates on our social media and on our website,' school officials said in a statement.
Southwestern College will evacuate the Chula Vista campus & all its centers Thursday, Sept. 6, while Campus Police investigate a credible threat. All classes are cancelled for the remainder of the day and all campuses will close. We will send updates as they become available.

— Southwestern College (@swc_news) September 6, 2018
A student overheard another student make the threat during a class on Wednesday night, Southwestern spokeswoman Lillian Leopold told FOX 5. The student reported the threat to his or her father, and he called the Chula Vista Police Department that evening, Leopold said. Chula Vista police notified college authorities of the threat Thursday morning, and that's when the decision was made to shut down all campuses, she said.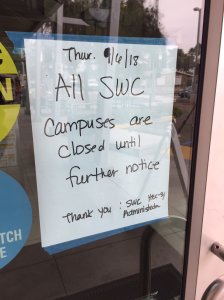 In addition to Southwestern's main campus in Chula Vista, the college also closed its San Ysidro, National City, Otay Mesa and Coronado centers, as well as the First Health Fitness Club and Wellness & Aquatics Complex.
All Thursday classes have been cancelled while campus police investigate the unspecified threat, school officials tweeted at about 9:15 a.m.
Campus police, along with Chula Vista police, traffic in and around the campus to speed up evacuations. They have reached out to San Diego Metropolitan Transit System to increase service in their area.
Campus officials had yet to determine if classes would resume Friday.