This is an archived article and the information in the article may be outdated. Please look at the time stamp on the story to see when it was last updated.
LAKESIDE, Calif. — Electrical power was restored Sunday morning to all but 76 of the nearly 3,000 SDG&E customers in Lakeside, Winter Gardens and Bostonia blacked out when a vehicle struck a power pole overnight.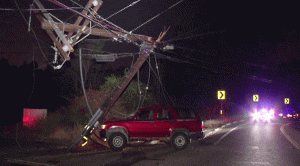 SDG&E spokeswoman Julie Wright said a crash at Westhill Road and Marilla Drive caused the power outage at 2:55 a.m.
"Initially 2,865 customers were affected, but by 3:08 a.m. power had been restored to all but 273 of those customers," Wright said. "Throughout the night crews worked to restore power to all remaining customers."
As of 9:30 a.m., 76 affected customers remained without power, Wright said.
Wright said power would be restored to those remaining customers no later than 3 p.m. Sunday.