This is an archived article and the information in the article may be outdated. Please look at the time stamp on the story to see when it was last updated.
IDYLLWILD, Calif. -- Gov. Jerry Brown has declared a state of emergency in Riverside County Thursday as the destructive Cranston Fire continued to spread one day after it was allegedly sparked by an arsonist in the Idyllwild area, KTLA reported.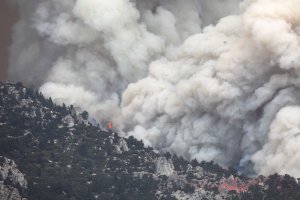 The blaze grew by roughly 4 square miles as it burned through rough terrain and dry brush, but U.S. Forest Service spokesman Lee Beyer said it appeared to be moving into less populated areas in its second day. The previous day, at least five residences were destroyed.
By late afternoon Thursday, it covered 7,500 acres — or just over 11 square miles — and was still 5 percent contained, according to the San Bernardino National Forest.
The blaze ignited off Highway 74 in the San Jacinto Mountains around noon Wednesday, and investigators believe it was intentionally set. A suspect has been arrested.
Officials were hoping to stem its progress Thursday by putting as many air tankers and helicopters in the air to attack the blaze as possible, especially as it was heading into steeper terrain, Beyer said.
Thousands evacuated, roads and wilderness areas closed
About 3,200 people were asked to evacuate more than 2,000 homes in the Idyllwild, Apple Canyon, Lake Hemet, Mountain Center, Hurkey Creek and Camp Scherman areas, according to the Forest Service.
Around 5:45 p.m. Thursday, new mandatory evacuations were ordered on the north side of Garner Valley and in the area of Hialeah Way. All homes accessed from roads north of Hialeah were under mandatory evacuation, while homes south of Hialeah through just south of Highway 371, including those accessed from Hialeah, were under an evacuation warning, officials said.
Mandatory evacuations have been issued for McCall Park and South of Pine Wood in the community of Mountain Center. Evacuations are also in place for Apple Canyon Area, Cedar Glen, Camp Scherman Girl Scout Camp, Fern Valley, Hurkey Creek area, Idyllwild, Lake Hemet area, Mountain Center Community and Pine Cove.
An evacuation center was set up at Banning High School located at 100 W. Westward Ave.
Road closures were in place for Highway 74 from the city of Hemet to Lake Hemet, and along Highway 243 from Banning to the intersection of the 243 and 74.
A resident named Steve told KTLA that he returned to his home after evacuating on Wednesday.
"Forty years up here, I won't leave until flames endanger me," he said. "Yesterday, they endangered me here, I went to town and I came back here."
Some recreation areas in the National Forest had also been shuttered. These included the Dark Canyon, Black Mountain, Marion Mountain, Boulder Basin and Fern Basin campgrounds; Humber Park; Lake Hemet Picnic Area; Tahquitz Peak Fire Lookout; and Devil's Slide Trail and the Pacific Crest Trail north of Highway 74.
About 700 fire personnel were sent to the area Wednesday to battle the blaze.