This is an archived article and the information in the article may be outdated. Please look at the time stamp on the story to see when it was last updated.
VISTA, Calif. — The San Diego Humane Society and SPCA are offering a $1,000 reward for information leading to a suspect who set an illegal animal trap that killed a coyote in Vista.
"I thought it was a baby German Shepard," said homeowner Bill Reilly, who found the coyote on Nov. 18.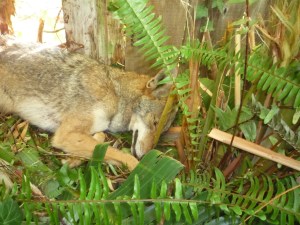 The coyote was discovered along Reilly's backyard fence.
"It had a snare that had to gone up all the way to its spine," said Reilly. "It completely cut the thing in half."
It was the family dog that alerted Reilly to the small coyote.
The coyote had apparently been trying to claw out of the yard creating a big hole through the fence. The animal eventually succumbed to its injuries.
"They are considered a body gripping trap," said Department of Fish and Game Agent Richard Bert. "The thing with body gripping traps is that they kill indiscriminately."
Setting any kind of wild animal trap is illegal without a proper license. However, snares have been outlawed since 1998 due to the inhumane way they kill and how easy they are to camouflage.
"Even worse than an animal being killed is a child potentially walking into it" said Bert.
Tje Department of Fish and Game gets calls of coyote sightings daily, and Bert admits they can be a nuisance.
It's unknown how many coyotes populate San Diego, but the mostly skittish predators are easily scared away unless provoked.
Reilly, who is in the process of repairing his fence, fears another coyote may be hanging around his yard.
"This has just showed up last week," he said. "Something has been sleeping here every night since that happened."
Any information relating to this incident is asked to contact the San Diego Humane Society at (619) 243-3466 or email investigations@sdhumane.org.