This is an archived article and the information in the article may be outdated. Please look at the time stamp on the story to see when it was last updated.
ALPINE — A 27-year-old man and his 20-year-old girlfriend were in custody Wednesday following a high-speed pursuit that began in Alpine and ended in Lakeside, authorities said.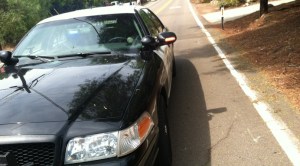 Steven Broyles was arrested and booked into jail on suspicion of evading police, vehicle theft and probation/parole violation in connection with the pursuit that occurred in the East County late Tuesday afternoon, according to San Diego County Sheriff's Sgt. C. Cross.
His girlfriend, Ashley Eastwood, was a passenger in a stolen SUV driven by Broyles and was arrested and booked into jail on suspicion of being under the influence of a controlled substance, Cross said in a statement.
The events leading to the couple's arrest began about 4:45 p.m. when a patrol deputy spotted a Toyota Highlander matching the description of one used in a recent series of East County thefts, including armed robbery.
The deputy attempted a traffic stop near Alpine Boulevard and West Victoria Drive but the suspect continued driving through Alpine, eventually heading toward Lakeside via westbound Interstate 8, Cross said, noting at times, the chase exceeded 100 miles per hour.
Broyles abandoned the vehicle he had been driving near the 13600 block of East Lakeview Road and fled on foot, leaving behind Eastwood, who was arrested without further incident near the stopped SUV, according to the sergeant.
Deputies using a helicopter and police dogs tracked Broyles as he ran through some neighboring properties and eventually took him into custody near the 13500 block of Las Potras Way, Cross said.
No injuries were reported, though Cross said Broyles was taken to a hospital for evaluation before being booked into jail.