This is an archived article and the information in the article may be outdated. Please look at the time stamp on the story to see when it was last updated.
SAN DIEGO – The small amount of rainfall in San Diego County has fire officials deeply concerned about the potential spread of more wildfires.
Cal Fire Captain Kendal Bortisser has over 30 years of experience fighting fires and told Fox5 the conditions around the county are "ripe" for more fires.
"We've had such a small amount of rainfall around the year.  The fuels are so dry it concerns the meteorologists, fire behavior analysts and firefighters in general," Bortisser said.
On Saturday, the Chariot Fire sparked east of Julian and grew to 4,700-acres by Monday.  Hundreds of firefighters were battling the blaze that threatens structures and forced evacuations.
The Chariot Fire is part of a pattern Cal Fire officials fear could be worse.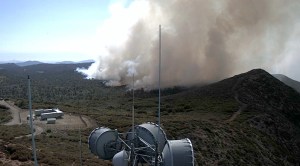 "We were seeing conditions in April and May that we don't normally see until September.  We can't predict the future, but this year started off with a bang and we have a real deep concern that it's going get worse."
The experienced firefighters is worried this could be a dangerous year.
"There are so many years where we hear 'oh this is going to be a worst fire season on record,' but I've seen a tremendous amount of information [this season] that makes people nervous."