This is an archived article and the information in the article may be outdated. Please look at the time stamp on the story to see when it was last updated.
SAN DIEGO — The San Diego County Water Authority Board of Directors has voted unanimously to make water use restrictions in the region mandatory.
The standards, in place because of the drought, had been voluntary up to this point.
The change was prompted by deepening drought conditions and new directives by the state government, according to the water authority.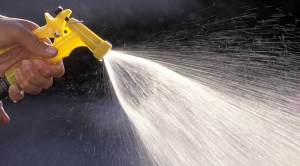 The CWA says stronger conservation measures will help San Diego County keep as much water as possible in storage for next year and comply with emergency water conservation mandates approved last week by the state Water Resources Control Board.
The water authority does not expect cutbacks in imported water supplies this year that would trigger mandatory supply cutbacks by member agencies. Reductions could happen next year if conditions don't improve, water officials
said.
"Water supply challenges statewide are serious, and they have led water agencies to withdraw significant amounts of stored water to meet demand in recent months," said CWA board Chairman Thomas Wornham.
"We don't know how much rain and snow we will get this winter," Wornham said. "The only thing we can collectively control is how much water each of us uses. Every home, business and public agency should assess its water use and take additional steps to conserve to better prepare for a possible fourth consecutive dry year."
An El Nino climate pattern — resulting from warming of surface water in the Pacific Ocean — is weakening and might not bring much relief to parched California after all, according to recent predictions.
The requirements include:
watering only at certain days and times
eliminating runoff from irrigation systems
repairing leaks within 72 hours
turning off water features unless they use recycled water
using hoses with shut-off valves for washing cars, or patronizing commercial car washes that re-circulate water
serving water to restaurant patrons only on request
offering hotel guests the option of not laundering towels and linens daily
using recycled or non-potable water for construction when available
Individual customers could see some variance in the new rules once they are adopted by the water authority's 24 member agencies.