This is an archived article and the information in the article may be outdated. Please look at the time stamp on the story to see when it was last updated.
SAN DIEGO – A San Diego politician was threatened at knife-point over the weekend in Kearny Mesa.
San Diego County Supervisor Dave Roberts was heading to a speaking engagement Saturday afternoon. He said he was parked his car along Brinell Road and was walking along the sidewalk when the attack happened.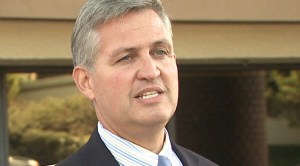 "A man jumped out of a parked van with a fork and started jabbing at me," Roberts said.
Roberts was able to jump out of the way and move around the other side of the van, but when he reached the front the man appeared again, this time with a different weapon.
"When I got to the other end of the van, the man jumped out with a knife," said Roberts.  "And started waving it at me, like stabbing at me."
Roberts was able to escape unharmed, run to the restaurant where he was scheduled to speak and call 911.
San Diego police arrested  57-year-old Timothy Gallion a short time later.
"He appeared by some of the things that he did and the mumbling sounds that he made that he may not be mentally stable," said Roberts, adding why he will continue to push for mental health reform. "At the County of San Diego, I've been pushing mental health reform. It's been one of my big successes I've been working on."
Roberts said he wants to make sure the suspect gets help. If the case goes to trial, he plans to testify.
Meanwhile, he wants to warn others to always be vigilant of their surroundings.
"Since then I've learned and been told 'you should never walk by a van,'" said Roberts. "In this case, the doors happened to be open, but many times with vans, the doors can slide open or swing open and that it's not a safe situation."
Gallion was being charged with exhibiting a weapon in a threatening manner. His bail is set at $2,500.