This is an archived article and the information in the article may be outdated. Please look at the time stamp on the story to see when it was last updated.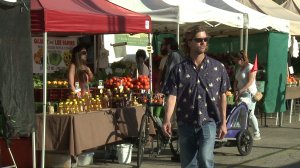 SAN DIEGO — The San Diego County Board of Supervisors is scheduled Tuesday morning to begin a push to make it simpler to operate certified farmers markets in the region.
Supervisor Dianne Jacob plans to ask her colleagues to consider having county staff work with the Sheriff's Department, San Diego County Farm Bureau and those who run farmers markets to streamline the licensing process in unincorporated areas. Her recommendation calls for a report back within three months.
According to Jacob, farmers markets began sprouting up in unincorporated areas after zoning amendments were passed by the supervisors about five years ago.
However, while the market operators are certified through the county agriculture commissioner, many of the individual vendors selling their products aren't, so they have to obtain a solicitor's license, which is enforced by the Sheriff's Department, she said.
Jacob said the current method is "time-intensive and onerous." One solution could be to have the certification of the farmer's market managers cover the individual vendors, she said.
The certified farmer's markets in unincorporated areas of San Diego County are the: Alpine Certified Farmers Market, 1347 Tavern Road, Saturdays from 9 a.m. until 2 p.m.;  Marketplace at Alpine Certified Farmers Market, 2442 Alpine Blvd., Fridays from 3 p.m. until 7 p.m.;   Welk Certified Farmers Market, 8860 Lawrence Welk Drive, Mondays from 3 p.m. until 7 p.m.; Fallbrook Certified Farmers Market, 102 S. Main St., Fridays and Saturdays from 10 a.m. to 2 p.m.; Ramona Certified Farmers Market, 1855 Main St., Saturdays from 9 a.m. to 1 p.m.; and the Warner Springs Certified Farmers Market, 30951 Highway 79, Thursdays from 3 p.m. to 6 p.m.
Numerous other farmers markets, certified and not, operate within the incorporated cities in the region.
Jacob is also expected to propose using county library branches to extend their outreach efforts to the region's 244,000 military veterans.
The county has a Veterans Services Office in nine locations that help former armed forces members obtain benefits. Jacob said the county could also use the 34 branch libraries.
She plans to ask her colleagues to have staff look into the feasibility of her proposal and report back in four months.