This is an archived article and the information in the article may be outdated. Please look at the time stamp on the story to see when it was last updated.
DEL MAR, Calif. – People came out in droves to the Del Mar Fairgrounds for the opening weekend of the San Diego County Fair with the Beach Boys kicking off the summer event.
Around 47,000 visitors spent Saturday, the opening day of the 2013, at the fairgrounds, according to fair spokeswoman Linda Zweig. It was the first time the fair opened on Saturday instead of a Friday in over a decade.
The fair, with a theme of "Game On!" celebrating classic board games, pinball and computer and video games, will also include the usual rides, farm animals and concerts.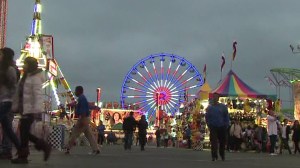 A 10-foot square Monopoly board and race car token will be available for photo ops, and tournaments are scheduled for Monopoly and role-playing card games such as World of Warcraft, Legend of the Five Rings and Yu-Gi-Oh.
Fair-goers will also be able to play larger-than-life versions of chess, dominos and other games.
Some stomach-challenging cuisine offered this year will include Krispy Kreme Sloppy Joes, bacon cotton candy and lobster nachos.
Grandstand entertainment highlights this year include The Beach Boys, Switchfoot, Friday; the Steve Miller Band, June 15; Martina McBride, June 20; Train, June 27; and Adam Lambert, July 2.
The concert lineup also includes appearances by Dave Davies of The Kinks, Tuesday; David Cassidy, Wednesday; Little Anthony & The Imperials, Thursday; Berlin, June 18; Chubby Checker, June 20; and The Motels, July 4.
Adult fair admission is $14, with an $8 rate for seniors 62 and over and children ages 6-12. Children under 6 get in free.
The fair parking lots are usually full by late morning. Organizers suggest using public transportation or parking at off-site lots and using a free shuttle.
Off-site lots are located at the Del Mar Horsepark, 14550 El Camino Real; the MiraCosta College campus in Cardiff by the Sea, 3333 Manchester Ave.; and Torrey Pines High School, 3710 Del Mar Heights Road.
Buses leave the off-site lots every 15-20 minutes.
The least crowded days of the fair are expected to be Tuesday, June 11 and 18.