This is an archived article and the information in the article may be outdated. Please look at the time stamp on the story to see when it was last updated.
DEL MAR, Calif.– The countdown is on for the San Diego County Fair. There are two weeks left before opening day and the preparations have already begun at the Del Mar Fairgrounds.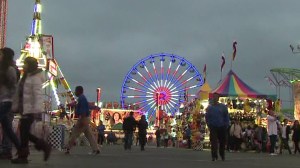 There's good food and good drinks so "Game On!" That's the theme for the San Diego County Fair this year.
"It's all about gaming, games, the history of games, board games, television game shows and where technology has taken games," fair spokeswoman Linda Zweig.
And what's the fair without food? This year Chicken Charlie isn't playing around.
He'll be serving deep fried cookie dough, chicken waffle dogs and Krispy Kreme Sloppy Joes, which is a traditional sloppy Joe sandwich on a Krispy Kreme.
"I mean a doughnut and meat, there's nothing like it!" Chicken Charlie said.
New this year, Father's Day June 16th there fairgrounds will host the Big Bite Bacon Fest, which is a day celebrating all things bacon.
You can get wild boar bacon kabobs, deep-fried cheesy bacon bombs, even bacon root beer and bacon cotton candy.
"You have to enjoy life and nothing makes life more enjoyable than bacon," Bacon Affair Owner Mike Peterson said.
Getting to the fair is easier than ever this year.
Thanks to a special deal you can get a $15 "tripper ticket," which includes a ride on the coaster-sprinter and admission into the fair.