This is an archived article and the information in the article may be outdated. Please look at the time stamp on the story to see when it was last updated.
SAN DIEGO — Councilman Mark Kersey proposed Thursday that the city of San Diego implement regulations to address the proliferation of electronic cigarettes, more commonly known as e-cigarettes.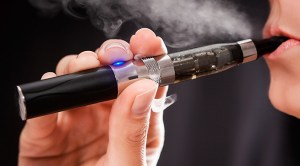 Kersey sent a memo to the City's Public Safety and Livable Neighborhoods Committee asking for the issue to be put on the docket for consideration.  Kersey said he wants to see e-cigarettes regulated like tobacco products.
"You should need a tobacco permit from the city to sell them," said Kersey. "You should not be able to sell them to minors obviously, and you should not be able to consume them in public places where others are around."
Chicago, Los Angeles and New York have banned e-cigarettes in restaurants and public places and, locally, so have Carlsbad, Vista and Poway.
"People should have a choice of whether they want to smoke or do the e-cigs," said Tony Wilson who is against the regulations. "I think they're starting to put too many restrictions on people."
E-cigarettes are considered by many to be a safer alternative to traditional cigarettes, but Kersey said that thinking is dangerous.
"The problem is we don't have enough research to know if they're safer than regular cigarettes or not," said Kersey. "The FDA is looking into it but we're not going to get any good data from them for a couple of years so in the meantime, we have to be looking out for the people we serve."
He said he is also concerned they are being heavily marketed to kids with names like peppermint patty and Coca-Cola.
"Our concern is for the children in this case — that we're not exposing them to something that they're going to believe is a socially acceptable alternative to smoking cigarettes," he said.
The issue will now go before a committee and then possibly on to the full City Council for a vote.