This is an archived article and the information in the article may be outdated. Please look at the time stamp on the story to see when it was last updated.
SAN DIEGO – The City Council Wednesday has scheduled a special election for Nov. 19 to replace the departing San Diego Mayor Bob Filner.
City Clerk Elizabeth Maland said the latest estimate from the county Registrar of Voters was that it could cost as much as $6.2 million to hold the election to replace Filner, whose resignation becomes official at 5 p.m. Friday.
She cautioned that the estimate could change, but would soon be made more precise.
Maland said she and county Registrar Michael Vu studied several dates but the one selected "is really the only viable option."
The registrar's office can provide election services to the city on that date, and it allows for a full two-week nomination period, Maland said.  It will give candidates the proper time to file.
"For a regular election, it's 4 weeks in length and for a special it's only two weeks," said Maland.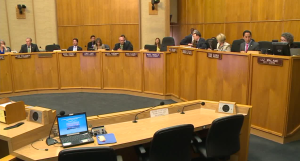 Starting September 6th, her office will begin handing out nomination paper work.   Candidates can begin filing September 13 till 5PM September 20th.
In the election, if one candidate wins more than 50 percent of the votes, that person would assume office Dec. 17, according to Maland. If not, a runoff election would be held, which would add to the city's expense, she said.
She also told the council members that it could be difficult to schedule a runoff within the 49-day period called for by the City Charter.
Ten candidates have expressed their intention to run in the special election, including ex-Assemblyman Nathan Fletcher. Now an executive with Qualcomm, he finished third in the June 2012 mayoral primary.
Other candidates who have filed intention forms are lawyer and frequent speaker at City Council meetings Hud Collins; Paul Michael Dekker, who, according to his website, is director of information technology at the San Diego-based nonprofit Global Energy Network Institute; La Jolla realtor Harry J. Dirks; Jared Mimms, who says on his LinkedIn page that he has founded or co- founded four companies; psychiatrist Ashok Parameswaran; website owner Tobiah Pettus; Kurt Schwab, who founded an organization for veterans of Afghanistan and Iraq; Mark Schwartz, a Libertarian activist who created a Facebook page for his campaign last month; and David Tasem, who operates a taxicab business.
Councilwoman Myrtle Cole said the need for a special election is unfortunate.
"I, too, am disappointed and saddened — as well as the people of my district — that we are in this situation, but the important thing is to get this over with and elect a new mayor ASAP," Cole said. "Doing so will provide stability to the city."
Filner tendered his resignation last week after nearly 20 women publicly accused him of sexual harassment. He is also under investigation for alleged misuse of city-issued credit cards and shakedowns of developers.
The city has already been sued by Irene McCormack Jackson, Filner's former communications director, who alleges Filner told her she should work without panties on, that he wanted to see her naked and could not wait to consummate their relationship.
McCormack Jackson — the first of the 19 women to come forward — also alleges Filner put his arm around her and dragged her along in a headlock while making sexual remarks. It was mediation over her lawsuit that led the 70-year- old former Democratic congressman to resign after less than nine months in office. He officially step down at 5 p.m. Friday.