This is an archived article and the information in the article may be outdated. Please look at the time stamp on the story to see when it was last updated.
SAN DIEGO — Residential construction and other sensitive land uses could be prohibited near the Solar Turbines plant along San Diego's waterfront, with the City Council's approval Tuesday of an "overlay zone" for the area.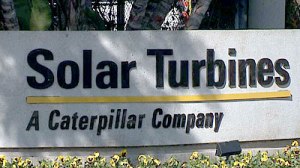 While the council approved the zoning change unanimously, it still has to go before the California Coastal Commission, which could take up to one year, said Lucy Contreras of Civic San Diego, which handles downtown development issues.
The idea, according to Contreras, is to reduce conflicts between incompatible land uses in the area and allow the industrial firm to continue operating in the area.
Two years ago, Civic San Diego denied a plan by developers to build an apartment complex with more than 200 units across the street from the plant. Solar Turbines and its supporters feared that the encroachment of residential uses would drive the company out of San Diego.
Solar Turbines has operated at its location between downtown and Lindbergh Field for 85 years, making natural-gas-fired turbines primarily for generating electricity.
"These are middle-class jobs," Interim Mayor Todd Gloria said. "These are jobs that you can raise a family on in this community."
According to Contreras, the overlay zone where new residential projects would be prohibited will consist of eight blocks south of Laurel Street and east of the plant, encompassing 12 acres of privately owned land.
She said Civic San Diego staff believes the area is more compatible with commercial and retail development, anyway, given current trends and the proximity of the airport.
Current uses within the zone would not be affected, she said.
According to a Civic San Diego report, community groups and businesses asked for the zoning designation in order to provide clarity for prospective future development planning.