This is an archived article and the information in the article may be outdated. Please look at the time stamp on the story to see when it was last updated.
SAN DIEGO — A single slate of city appointments to the San Diego Association of Governments was passed unanimously and with little comment Monday, a far cry from last week's rancor between Mayor Bob Filner and City Council President Todd Gloria.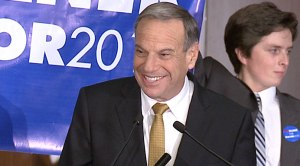 The new list resolves most issues raised in a tiff over the mayor's appointment power and the bipartisan nature of the nominations.
Filner and Gloria will serve on the board of the regional planning agency, which is made up of mayors and council members from cities in the area, along with representatives from county government and important institutions such as the U.S. Navy.
Filner bypassed Gloria when he nominated city officials to the SANDAG board.
At Tuesday's meeting, Filner accused City Council members of undermining his power to make appointments. He frequently interrupted Gloria and Assistant City Attorney Mary Jo Lanzafame, whom he criticized.
Filner, described as passionate by supporters and combative by opponents, later apologized.
According to city documents, the appointments approved today originated in the mayor's office.
The appointments include Councilwoman Lorie Zapf, a Republican, being named a member of SANDAG's Regional Planning Committee, as requested by Gloria.
Another GOP member, Scott Sherman, would be given a post on SANDAG'S Energy Working Group. A third Republican, Mark Kersey, was selected as an alternate for two committees.
Filner and Gloria are Democrats. Democrats have a 5-4 majority on the officially nonpartisan City Council.
After last week's meeting, Filner said he went to each council member to ask for their picks.
"As far as I remember, everybody who asked me got what they wanted," Filner said.
The mayor and council president thanked each other for their eventual cooperation.
"I appreciate the opportunity to jointly issue this — the mayor and the council together — making these recommendations for the full council to consider," Gloria said. "I think the ones that are in front of the council today are worthy and will make sure that the city of San Diego — our citizen's interests — are well represented at regional bodies of incredible importance throughout our community."
Under the City Charter, the mayor nominates San Diego's representatives to outside agencies, boards and commissions — subject to City Council approval. Since SANDAG's committees are made up of council members, appointments have in past practice been developed jointly by the mayor and council president.
In other appointments, Councilman David Alvarez was named to the San Diego County Regional Airport Authority Board of Directors and Councilwoman Marti Emerald to the City-County Reinvestment Task Force.