This is an archived article and the information in the article may be outdated. Please look at the time stamp on the story to see when it was last updated.
SAN DIEGO — San Diego City Council will soon consider an ordinance that would limit where residents can buy dogs, cats and rabbits.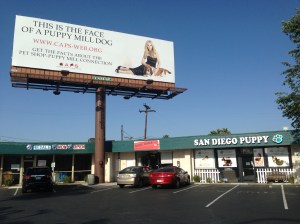 Wednesday the City Council's Public Safety and Neighborhood Services Committee heard a heated debate over the proposal, but ultimately decided to move forward. The ordinance will now go before the entire City Council for a vote.
The proposal would make it "unlawful for any person to display, offer for sale, deliver, barter, auction, give away, transfer or sell any live dog, cat or rabbit in any pet shop, retail business or other commercial establishment located in the city of San Diego, unless the dog, cat or rabbit was obtained from a city or county animal shelter or animal control agency, a humane society or a nonprofit rescue organization."
Supporters said it will help address a problem with puppy mills.
"This is an industry based on greed," said Janice Hatch, San Diego Animal Defense Team. "There's no question about it. It's not based on this sweet loving feeling toward puppies. It's based on making money."
One particular store, San Diego Puppy, will be impacted severely if the ordinance passes. The Grantville business is run by David Salinas, who said he's been unfairly targeted by animal rights organizations.
The groups have protested outside his store. A billboard by an animal rights organization, Companion Animal Protection Society, was also erected right above the store. It warns drivers of a "pet shop-puppy mill" connection.
Salinas spoke at the hearing insisting he runs his store properly and said he is a "moral and ethical person."
"The proof that these puppies are not from puppy mills is the quality of puppy," said Salinas. "You have to realize this. The puppies are beautiful and they're perfect."
San Diego resident Kira Schlesinger spoke against the ordinance, saying animal shelters don't offer enough options for consumers.
"On a daily basis this is what you have," said Schlesinger. "They are Pit Bulls and Chihuahua. There's no avenue for pure bred puppies. I do not want a dog that s a Pit Bull that I don't know where it came from."
But supporters of the ordinance said it's about protecting animals.
"There are laws that need to be enforced pertaining to the sale of live animals," said Officer Randy Lawrence, Humane Law Enforcement for San Diego Humane Society and SPCA. "Not just a book or a bottle of water. And that's what this is all about."
Council members said the ordinance would not apply to home breeders. They also said stores could continue selling animals, if they obtain them from animal shelters or non-profits, as addressed in the ordinance.
Similar ordinances are already in place in Los Angeles and Chula Vista.