This is an archived article and the information in the article may be outdated. Please look at the time stamp on the story to see when it was last updated.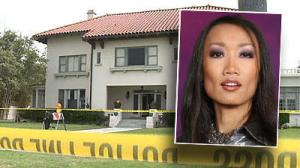 CORONADO, Calif. — Coronado's Spreckels Mansion has been a staple of the community for decades.  However, for the last year it has been associated with one incident.  The death of 32-year-old Rebecca Zahau.
On July 13th, 2011, Zahau was found hanging from a balcony inside the mansion.  She was naked and her hands and feet were tied.
Zahau was living in the mansion with her boyfriend, Arizona pharmaceutical CEO Jonah Shacknai.  Days before her death, Shacknai's 6-year-old son Max was fatally injured after falling down a flight of stairs.
The San Diego County Medical Examiner's Office determined Zahau was so grief-stricken over Max Shacknai's death (she was caring for him at the time), that she took her own life.
However, one year later Zahau's family maintains it was murder, not a suicide.
"Everything I have read and looked into does not point to suicide," explained Zahau's sister Mary.
Mary Zahau has led the campaign for the case to be reopened.  Requests to the Sheriff's Department and District Attorney were denied.  Zahau's attorney Marty Rudoy said "the California Attorney General is reviewing the case."
While remaining largely tight-lipped, Zahau's attorneys said Friday their own investigation determined "no one in history" has killed herself in such a manner.  It also found Zahau's DNA was not on the balcony railing where she died.  Anne Bremner, the Seattle-based attorney also working the case for Zahau, added phone records prove the Sheriff's Department investigation is "baseless".
The San Diego Sheriff's Department said Friday the case remains closed. 
A spokesperson for Jonah Shacknai had no comment.
As for the Spreckels Mansion, it is undergoing a massive renovation.  The home's realtor told Fox 5 Shacknai still owns the home, but is not paying for the work. 
According to the realtor, work is being paid for by a Utah-based corporation called 1043 Ocean Blvd LLC. It's two main partners are Coronado developer Joe Pinsonneault and Harris Air, another Utah-based corporation owned by Robert Harris.  Harris also owns land on Coronado.
When reached for comment Friday, Pinsonneault told Fox 5 he and Harris have "done some deals with Mr. Shacknai" in the past.  He had no comment on why Shacknai still owned the home, or why an airline company would help pay for home renovation, only saying, "the whole world is unusual."