This is an archived article and the information in the article may be outdated. Please look at the time stamp on the story to see when it was last updated.
CORONADO, Calif. – A 6-year-old girl from Coronado had a magical moment Sunday as the Pope embraced her during his visit to Mexico City.
Maria Girault and her family were in Mexico City for a family reunion.  A family friend told them Pope Francis was going to be there.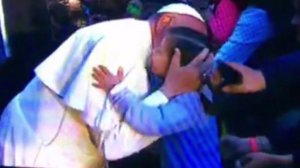 "A friend told me Pope Francis likes to hug children, especially kids with special needs," her mother Lorena Girault said. "So we went to the embassy."
Lorena Girault took the opportunity to try to get her daughter near the Pope for a blessing outside the Vatican's Embassy in Mexico City. Because Maria has Down syndrome, security personnel escorted the little girl to the front of the crowd.
Moments later, the Pope walked up and embraced Maria who hugged him back.
"I was so excited, I was so excited and got emotional," her mother said. "People were screaming, but I just knew she was going to be blessed by the Pope I just knew it."
The moment was captured by an unidentified man's cell phone who happened to be in the crowd.
Maria attends Sacred Heart Catholic School in Coronado says she's a girl of faith.