This is an archived article and the information in the article may be outdated. Please look at the time stamp on the story to see when it was last updated.
MOSUL, Iraq — A Coronado-based Navy SEAL was killed in Iraq as a result of enemy fire about thirty kilometers north of Mosul, FOX 5 learned Tuesday.
The Defense Department is withholding his name, but sources told FOX 5 that his name was Charlie Keating. A Facebook post by one of Keating's friends corroborated his death.
"Charlie, a Navy Seal on a dangerous mission in Iraq, was shot and killed last night," according to the post by Robert Whitley.
The SEAL was an adviser to Kurdish Peshmerga forces that are fighting ISIS and was killed during an ISIS assault "on a Peshmerga position approximately three to five kilometers behind the forward line of troops," Pentagon press secretary Peter Cook said Tuesday in a statement. The Pentagon will provide additional information on the service member's identity after next of kin have been notified.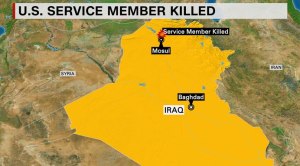 The U.S. responded with F-15s and drones which dropped more than 20 bombs, according to a U.S. official.
Defense Secretary Ash Carter confirmed the reports Tuesday while speaking to reporters in Germany, adding that the death shows "it's a serious fight that we have to wage in Iraq."
Cook added: "This sad news is a reminder of the dangers our men and women in uniform face every day in the ongoing fight to destroy ISIL and end the threat the group poses to the United States and the rest of the world. Our coalition will honor this sacrifice by dealing ISIL a lasting defeat."
White House press secretary Josh Earnest said Obama has been briefed on the death.
"Everyone extends condolences to service member killed," Earnest said at his daily briefing with reporters, adding that it's a reminder of the risks Americans continue to face even in advisory roles there.
Former Navy SEAL Dave Maynard is part owner and operator of Warfighter Academy in Escondido, a tactical gunfighting school owned and operated by former Navy SEALs and other combat veterans. Maynard also served on Seal Team One.
"That guy knew what he was doing. He knew the risk was great, well worth it. He'd go back a second time, I guarantee you," said Maynard.
He says it's always tough to hear about the loss of a fellow team member.
"They need to know that every one of the SEALs wish they were there next to him…when that went down, fighting next to him," said Maynard.
Retired Navy SEAL Perry Yee is also one of the instructors at Warfighter Academy. He says Keating went through BUD/S shortly after he did.
"A piece of you still feels it…and I know that it's going to be much harder for those that knew him and knew him well, but it's a very hard pill to swallow," said former Navy SEAL Perry Yee.
"We've actually had some of our here recently lose friends that they served with they were close with and just like it is today, just like it was back then we're there for each other," said Yee.
He says connecting with other combat veterans like the group at Warfighter Academy helps all of them deal with the difficulties of war and the loss of those who don't come home.
"At the very least they still have the community. He will always be part of the community no matter what," said Yee.  "I guarantee you there's been people reaching out to them who were close already and doing what they can and that's the best thing about being in the SEAL teams is that you're always going to have people that not only care about you but your family as well."
Keating's death is the third U.S. combat casualty since the U.S. redeployed forces to Iraq in the summer of 2014 to adviser local forces and conduct special operations against ISIS.
Marine Staff Sgt. Louis F. Cardin was killed in March in a rocket attack on a U.S. base in northern Iraq. And an October 2015 rescue mission in northern Iraq had previously claimed the first American casualty, U.S. Army Master Sgt. Joshua Wheeler.