This is an archived article and the information in the article may be outdated. Please look at the time stamp on the story to see when it was last updated.
SAN DIEGO – A new plan to add bike parking on Orange Avenue in Coronado is getting mixed reviews.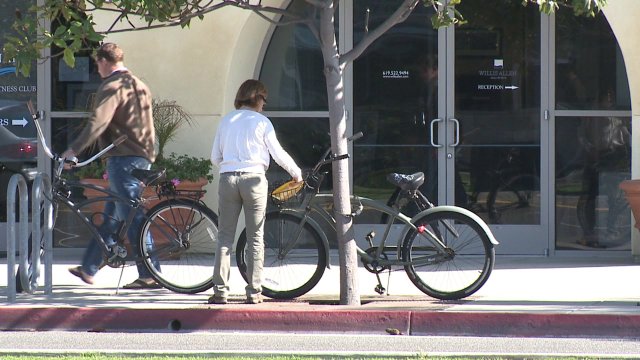 The program is supposed to make the island more bike-friendly and if it goes well it may roll into other parts of the county.
"This corridor is a prime location for recreation and transportation bike riding," San Diego County Bicycle Coalition Executive Director Andy Hanshaw said. "People are coming through here to come to the beach. People are coming through here to get to work."
The Coronado City Council recently gave the green light on a six-month experiment to convert eight parking spots along Orange Avenue into bike corrals.  Each would have space to park  12 bikes.
"You can potentially put 12 bikes in the space of one car," Hanshaw said. " It really makes a lot of business sense."
The corrals are going over well with bikers, but some drivers aren't thrilled about the idea of losing parking spots along the busy street.
"I don't think car parking should be taken away for bicycles," Leon Lammers said.
"Why in the world would you do that? You have plenty of room for bike racks on the sidewalk," Paul Berghoff said. "I think a much bigger issue with bikes is bike lanes."
City Council will take the issue up again in about a month to review public opinion.