This is an archived article and the information in the article may be outdated. Please look at the time stamp on the story to see when it was last updated.
OCEANSIDE, Calif. — More than two dozen officers and detectives passed out fliers at Libby Lake Park and nearby neighborhoods Wednesday to generate new leads in a shooting that left two teens dead and another two wounded.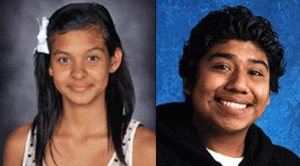 Melanie Virgen, 13, and 15-year-old Edgar Sanchez were fatally shot in the Calle Montecito park about 8:50 p.m. last Wednesday, according to Oceanside police. David Garcia and David Rendon, also juveniles, were shot but survived.
The fliers passed out by detectives asked "Who Murdered These Kids?" — and included school photos of the victims.
After the shooting, witnesses said suspects in dark clothing drove off in a gray or silver 2005 or 2006 Toyota Tacoma or Tundra extended-cab truck, according to Lt. Aaron Doyle.
No motive has been disclosed. There was no "solid evidence" that it was gang-related, the lieutenant said.
"You have the obvious evidence at the crime scene and witness statements you obtain that night. But a lot of information is obtained through things like we're doing tonight," said Doyle.
The shooting occurred near a makeshift memorial for two teens killed in a gang assault nearly two years ago.
Anyone with more information about the homicides was asked to call Detective Mark LaVake at (760) 435-4872 or Crime Stoppers' anonymous tip line at (888) 580-8477. Anonymous emails and texts can also be sent to sdcrimestoppers.com.  Information leading to an arrest could be worth up to $1,000.