This is an archived article and the information in the article may be outdated. Please look at the time stamp on the story to see when it was last updated.
SAN DIEGO — All four of the top candidates for San Diego mayor will debate for the first time Tuesday, with an important endorsement possibly riding on the outcome.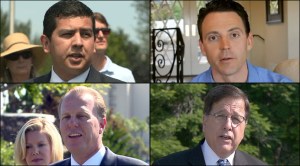 The forum, which will focus on law enforcement issues, will be hosted by the San Diego Police Officers Association, Deputy Sheriffs Association of San Diego County, San Diego County Deputy District Attorneys Association, and the San Diego County Probation Officers Association.
The candidates — former City Attorney Mike Aguirre, Councilmen David Alvarez and Kevin Faulconer, and ex-Assemblyman Nathan Fletcher — are among 10 who want to finish the term of Bob Filner, who resigned Aug. 30 after less than nine months on the job.
The hopefuls are also vying for the Probation Officers Association's endorsement for the Nov. 19 special election. Fletcher captured the organization's support last year.
On Monday, Fletcher released a plan to address the San Diego Police Department's chronic staffing problems. According to the most recent report, the SDPD has 135 fewer sworn officers than called for in the budget. Officers have been leaving to the tune of around 10 a month for several years to nearby law enforcement agencies that offer higher take-home pay.
Fletcher's plan calls for increasing the amount of officers' paychecks by lowering out-of-pocket costs for health care; supporting a mentoring program to increase the rate in which recruits pass the police academy; training officers to act as recruiters and provide bonuses for successful referrals; creating a joint training facility with other agencies; reestablishing community storefronts that allow officers to interact with the public; and setting reliability standards so that officer safety or investigations are not threatened by technology blackouts or equipment failures.
Also on Monday, Bruce Coons announced he is dropping out of the race and throwing his support to Alvarez. Coons is the executive director of a preservationist group called the Save Our Heritage Organisation.
If no candidate wins more than half the vote in the special election, a runoff between the top two vote-getters would be held early next year.