This is an archived article and the information in the article may be outdated. Please look at the time stamp on the story to see when it was last updated.
SAN DIEGO — In an effort to reverse a growing number of local pedestrian injuries and deaths, San Diego police Thursday launched a daylong enforcement sweep targeting violations on the part of people walking, jogging, bicycling and skateboarding on city streets.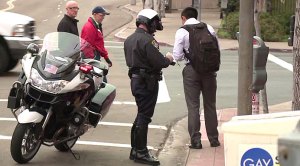 The crackdown, slated to run from 7 a.m. to midnight, was designed as an education strategy in response to a public-safety problem with a clear cause, SDPD traffic Lt. Steve Hutchinson told reporters.
"In the majority of our accidents involving pedestrians, the pedestrian is at fault," Hutchinson said during a late-morning briefing at downtown police headquarters.
Last month alone, six traffic deaths involving pedestrians occurred in San Diego. In all but one of the accidents, the actions of the fatally injured person were found to have been primarily to blame, according to police.
Last year, 20 pedestrians died in city traffic, six more than in 2011.
In many of those two years' 34 cases, investigators found that jaywalking or other pedestrian violations were the primary causes of the crashes, officials said.
Thursday's operation was partially funded by a grant from the state Office of Traffic Safety, in conjunction with the National Traffic Safety Administration.