This is an archived article and the information in the article may be outdated. Please look at the time stamp on the story to see when it was last updated.
SAN DIEGO — Two San Diego police officers opened fire and grazed a suspected car thief in the City Heights area early Thursday after the suspect drove toward a third officer, according to a statement.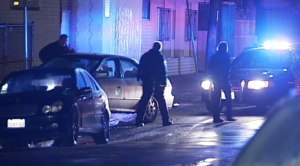 Shortly after 1 a.m., patrol officers spotted a stolen 2002 Honda Accord and ordered its driver, Julio Martinez, 34, to pull over and get out of the vehicle, according to San Diego police Lt. Jorge Duran.
Martinez stopped the Accord in the 3800 block of Wightman Street, then shifted gears and drove the vehicle toward one of the officers, who was by then on foot, according to Duran.  The vehicle made contact with the officer, but he jumped back; and his quick maneuvering helped him escape injury, according to the lieutenant.
The two other officers, who were within a couple of feet of the Accord, fired their service weapons in an attempt to prevent Martinez from striking them, according to Duran, who said Martinez was grazed in his left shoulder.
Amid the gunfire, Martinez allegedly sped off westbound on Wightman Street but crashed as he attempted to turn left onto Euclid Avenue. Martinez fled on foot after crashing the Accord into a street sign, according to Duran.
He was arrested in the west alley of Euclid Avenue and booked into jail on suspicion of a number of  felonies.
The two officers who opened fire were identified only as a three-year and five-year veteran of the San Diego Police Department.