This is an archived article and the information in the article may be outdated. Please look at the time stamp on the story to see when it was last updated.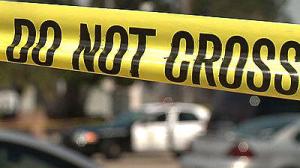 SAN DIEGO — Authorities released the names Tuesday of four police officers who shot two suspects in separate incidents in Encanto and the Carmel Mountain area last weekend, killing one of them and leaving the other with multiple bullet wounds.
Shortly before 1:30 a.m. Saturday, San Diego police Officers Sergio Gallegos, Rogelio Medina and Nicholas Troncale opened fire on Jonathan F. Vasquez, 21, when he allegedly drove a stolen car directly at them following a brief road chase that ended in the 6500 block of Brooklyn Avenue, SDPD Lt. Ernie Herbert said.
Vasquez died at the scene of the shooting just east of Encanto Elementary School. One of his two companions, a 19-year-old woman riding in the front passenger seat of the stolen car, suffered a gunshot to her shoulder. A man, 18, in the back seat was unharmed, Herbert said.
About 13 hours later, San Diego police Officer Addam Ansari shot Tom Billodeaux, 20, when the assault suspect allegedly pointed a handgun at him inside a movie theater at a multiplex in the 11600 block of Carmel Mountain Road.
Medics took Billodeaux, an Escondido resident, to a trauma center for treatment of arm and chest wounds, SDPD Lt. Ernie Herbert said. The suspect remained hospitalized late this morning. His condition and prognosis were not released.
The events that led to the non-fatal shooting had begun a short time earlier, when Billodeaux allegedly assaulted a young woman at her workplace in a shopping center near the multiplex.
Aided by witnesses who saw the suspect flee into another mall a short distance to the east, Ansari searched the theater complex and found him sitting in a darkened auditorium with about 15 other people during a screening of "Les Miserables."
The officer ordered Billodeaux to put his arms over his head, and he initially complied, displaying his empty hands. A moment later, however, the suspect allegedly grabbed a pistol from his lap or waistband and raised it toward Ansari, prompting the officer to open fire.
Police declined to disclose the relationship between Billodeaux and the alleged assault victim, though Herbert described the incident as domestic violence.
The three officers involved in the first of the two shootings work out of the SDPD Southeastern Division station. Gallegos has been with the force for six years, Medina for five and Troncale for four, the lieutenant said.
Ansari is assigned to the SDPD Eastern Division and has been an officer with the department for 18 months, according to Herbert.
All four patrolmen will serve desk duty pending completion of investigations into the shootings.