This is an archived article and the information in the article may be outdated. Please look at the time stamp on the story to see when it was last updated.
SAN DIEGO — Police said Thursday that they know who drove the getaway car in a failed bank robbery earlier this week.
Police said they believe 28-year-old Robert Hodge drove the teal 1999 Honda Civic with license plate 7AIV590 used in an attempt to hold up a Wells Fargo bank in University City Tuesday evening.
Casey Allen Wilson, 27, was allegedly with a woman, identified as 42-year-old Laura Joyce Elshire, when he handed a bank teller a demand note, San Diego police Lt. Kevin Mayer said. The woman, who as wearing a blonde wig and carrying a blue bank bag, told the teller "hurry" twice before activating a stun gun, he said.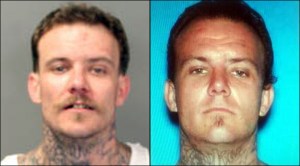 "The security guard heard this and saw the bank was being robbed," said Lt. Mayer. "Wilson came directly towards the security officer."
The guard fired two rounds, one striking Wilson in the face and the other in the arm, police said. Wilson ran from the bank leaving a trail of blood.
"Wilson ran to the vehicle where Hodge was waiting and drove off," said Lt. Mayer.
Wilson was driven to Sharp Memorial Hospital and left near the emergency room later that evening.
The security guard captured Elshire, who was being held at the Las Colinas Detention Facility in lieu of $105,000 bail. Wilson and Elshire are expected to be arraigned Friday afternoon.
Authorities continued searching for Hodge Thursday.  He is believed to be armed and dangerous.
"Do not approach.  Dial 911 if you see him," said Lt. Mayer.  'You can also call 619-531-2000 or Crimestoppers at 1-888-580-8477."
Police still have not indicated how much or if any money was stolen from the bank.