This is an archived article and the information in the article may be outdated. Please look at the time stamp on the story to see when it was last updated.
SAN DIEGO — Police evacuated homes in Bay Park Tuesday after an apparently suicidal man broke into a home and began threatening to kill himself by blowing up the house.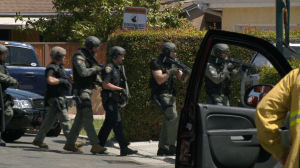 San Diego police responded to the house in the 1400 block of Galveston Street.
When officers arrived, they could smell natural gas near the home, so they began clearing people out of nearby residences. Meanwhile, firefighters cut off the supply of gas to the house where the man was holed up.
A SWAT team deployed around the residence and sent in a camera- equipped robotic device to look for the suicidal man.
The SWAT officers did go in but failed to find the suspect. He had apparently fled the house.
Neighbors told Fox 5 News, the suspect is a homeless man named George who frequents the neighborhood, and that he had a relationship with the woman who lives at the house.
On Monday, he came to the house and broke some windows. Police had been looking for him ever since.
Today he returned to the property and that's how the standoff began.