This is an archived article and the information in the article may be outdated. Please look at the time stamp on the story to see when it was last updated.
SAN DIEGO – A man receiving a ticket for smoking on the boardwalk started videotaping the cop with his cell phone. The officer said the cell phone was a weapon and he needed to stop recording.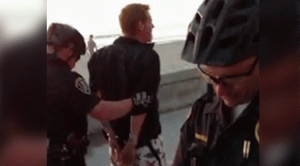 While Adam Pringle was getting a ticket from a San Diego police officer, he began videotaping their conversation.
"There is no way this could be a weapon…. I am videotaping – I will not turn this off," Pringle said to the SDPD officer who said the cell phone was a weapon and to stop using it.
What began as a minor violation for smoking on Mission Beach boardwalk, turned into a constitutional law question and landed a San Diego man in jail.
"You may not touch my cell phone. No you will not… no, no," Pringle said on the recording posted to the web. The video continues with Pringle being led away in handcuffs.
The video has been circulating the Internet after Pringle posted on his Facebook page that he spent the night in jail – booked for resisting arrest and obstructing an officer.
Alex Simpson, a professor at California Western School of Law, said the officer had no basis to claim the cell phone as a weapon.
"The United States Supreme Court come down squarely on an individual's right to film police interaction," Simpson said.
Simpson believes that officers should welcome the technology and scrutiny as a way to protect themselves from lawsuits and use for future prosecution.
"Theoretically, the officer are doing everything by the book and doing everything with proper procedures. They should feel totally comfortable begin videotaped," he said.
SDPD did not respond to calls for an interview Wednesday about the video.