This is an archived article and the information in the article may be outdated. Please look at the time stamp on the story to see when it was last updated.
SAN DIEGO — A 31-year-old convicted felon is in San Diego County jail on suspicion of shooting a San Diego police officer Thursday while attempting to avoid arrest, according to jail records.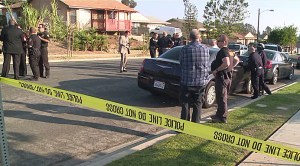 Ignacio Canela was being held on 18 charges, including possession of drugs, possession of burglary tools, being a felon with a firearm, evading arrest and attempted murder. There is no bail listed.
Canela is suspected of shooting San Diego police Officer Tim Bell in an attempt to keep from being arrested on a warrant for assault with a deadly weapon. Officials said Canela is a known gang member.
Bell, a five-year veteran of the department, underwent emergency surgery for chest, arm and leg wounds and was expected to make a full recovery, officials said.
Officers chased Canela through a culvert and into the drainage channel. Bell, the first one to enter the culvert, came under fire moments later, Lt. Jorge Duran said. The wounded officer's colleagues carried him to a police car and rushed him to Scripps Mercy Hospital in Hillcrest.
Officers arrested Canela in the 2100 block of Haller Street, on the opposite side of the two freeways from the site of the shooting. A loaded pistol was found ditched in a nearby residential yard, Duran said.
Acting Mayor Todd Gloria said Friday morning that he visited with the officer's family at the hospital Thursday night.
"He's well," Gloria said. "His vest clearly saved his life. The other officers did a great job in caring for him after he was shot."