This is an archived article and the information in the article may be outdated. Please look at the time stamp on the story to see when it was last updated.
SAN DIEGO — A long-term ocean contamination alert around the U.S.- Mexico border was expanded today to include the Imperial Beach shoreline.
N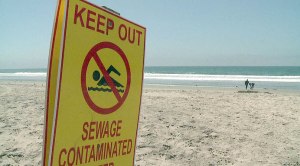 orthward sea currents are believed to have carried sewage-fouled runoff from the Tijuana River into the surf off the coast of the small South Bay city in recent days, the county Department of Environmental Health reported.
Signs warning of pollution hazards will remain in place until field measurements indicate that the ocean in the area is safe again for recreational use.
But not everyone heeded the warning.  The potentially contaminated water was still too much of a temptation for some  beach-goers.
"Everyone else went in surfing and boogie boarding – so we're like 'let's go,'" said a visitor from Chula Vista.
"If they really knew what is in this water – they would not take that risk," said Paloma Aguirre of WiLDCOAST, an environmental watch group.
Contaminated flows out of Mexico have been entering the Tijuana River for months due to this winter's rains, according to the DEH.
Aguirre added that a sewage treatment plant in Tijuana is dumping pollutants into the river.
"They have a pump station that redirects this treated effluent south to another treatment plant and currently it's not on.  It's coming across and causing this beach closure," said Aguirre.
The DEH will be testing water samples and keeping and watching the current — hoping it does not flow north towards Coronado.