This is an archived article and the information in the article may be outdated. Please look at the time stamp on the story to see when it was last updated.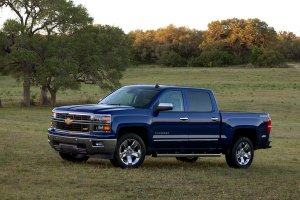 With 2013 shaping up to be a high-water mark for the pickup truck market, Consumer Reports announced a photo finish in the latest competition for top truck.
The magazine announced Tuesday that the all-new Chevrolet Silverado 1500 is the current segment leader. Yet the second-place Ram 1500 has more to offer as a daily drive, CR said.
"The reality is that you can't go wrong with either one," Jake Fisher, director of automotive testing for Consumer Reports, said in a statement. "Both are capable trucks that get decent gas mileage and are as quiet inside as a good luxury car."
The Silverado, which Highway 1 tested in July, bested rivals thanks to features like a large cargo bed, as well as greater payload and towing capacity, better handling and better overall fuel economy, CR said.
Yet CR said it was the Ram 1500 that won them over for daily driving. Not only did its larger V-8 have more thrust and a smoother transmission, the Ram also offers a better ride, quicker acceleration and more comfortable interior, the magazine said.