This is an archived article and the information in the article may be outdated. Please look at the time stamp on the story to see when it was last updated.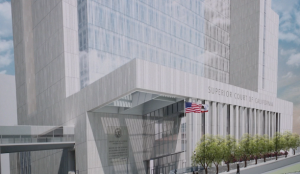 SAN DIEGO – After more than a decade of planning, a groundbreaking ceremony was held today for the $555.5 million Central Courthouse for the San Diego County Superior Court.
The building — the largest new courthouse in the state's court construction program — will consolidate multiple facilities in the downtown metropolitan area, including the County, Family and Madge Bradley courthouses, which are seriously overcrowded, unsafe and inadequate for modern court operations.
"Today, we begin fixing those issues," said county Supervisor Greg Cox.
Planning to replace the existing County Courthouse began in 1996, he said, noting that a bill passed in 2002 required counties to transfer responsibilities for court facilities to the state of California.
"It was a monumental challenge for all of us, but we never lost sight of the big picture and we were able to craft a plan that meets the needs of this growing region," Cox said. "For downtown San Diego, this will be another gem in the continuing renaissance of our civic core."
California Chief Justice Tani Cantil-Sakauye praised the leadership of the San Diego judges, politicians and court staff who made the new courthouse building a reality. The new courthouse is funded by Senate Bill 1407, using trial court user fees.
"This bill took no penny from general tax dollars," the chief justice said.  "All of it was raised by lawyer fees and fines, so a great round of applause to the lawyers who agreed to this fee to build this building."
She said California is the only state in which the judicial branch takes responsibility for the construction, maintenance and repair of its 500 buildings.
"There is no other state in the nation where the judicial branch takes care of itself and pays its own way," she said. "And that's something to be proud of."
San Diego Presiding Judge David Danielsen said an earthquake fault running under the existing courthouse — which was built in 1961 — helped move the new building construction along.
"It is a great day for a great city and a great county and a part of a master plan of a great state," Danielsen said. "We need a modern, safe and efficient courthouse."
The 22-story building will include 71 courtrooms in 704,000 square feet and feature significant improvements in security, with a secure vehicle sally port for the transportation of in-custody defendants, as well as better safety and improved access and efficiency for county residents.
The new facility will utilize sunlight to optimize interior lighting. A three-story lobby atrium will connect to the nearby Hall of Justice, which will continue to be used for civil cases, via a pedestrian bridge.
Completion is scheduled for fall 2016.