This is an archived article and the information in the article may be outdated. Please look at the time stamp on the story to see when it was last updated.
SAN DIEGO – Republican Congressman Darrell Issa, who represents coastal areas of San Diego County and part of Orange County, announced Wednesday that he will not seek re-election to Congress.
Issa, one of the wealthiest members of Congress and among the best-known due to his reputation as a conservative attack dog, is bowing out of what would have been one of the nation's most hotly contested congressional races.
Serving #CA49 has been the privilege of a lifetime. From the bottom of my heart – thank you – to everyone for your support and the honor of serving you all these years. My full statement on my decision not to seek reelection: https://t.co/zjlkeiqnzs

— Darrell Issa (@DarrellIssa) January 10, 2018
Issa released the following statement:
"Two decades ago, when I stepped away from the business I'd built to enter public service, I never could have imagined that a long-shot bid for U.S. Senate would lead to 18 years in the House of Representatives and endless opportunities to make a meaningful impact.

From the first successful recall of a sitting Governor in California history, to establishing new and stronger standards for government accountability, to protecting the Internet from harmful regulation, and enacting the nation's first open data standards, we attempted and achieved much in the service of our nation.

Together, we put an end to abusive Congressional earmarks, strengthened the Violence Against Women Act, empowered better oversight of the executive branch, and cleared the course for better intellectual property protections to stop the piracy of American ingenuity.

Throughout my service, I worked hard and never lost sight of the people our government is supposed to serve.  Yet with the support of my family, I have decided that I will not seek re-election in California's 49th District.

I am forever grateful to the people of San Diego, Orange and Riverside counties for their support and affording me the honor of serving them all these years. Most humbling for me — and for anyone who represents this area — has been the special privilege of representing the Marines and Sailors of Camp Pendleton and their families. On countless occasions, and in every corner of the world I met them, I was inspired by their bravery and humbled by their sacrifice to keep us all safe from harm.

Representing you has been the privilege of a lifetime.

While my service to California's 49th District will be coming to an end, I will continue advocating on behalf of the causes that are most important to me, advancing public policy where I believe I can make a true and lasting difference, and continuing the fight to make our incredible nation an even better place to call home."
He nearly lost his seat in 2016, besting Democrat Douglas Applegate — among the four Democrats running this year — by less than a percentage point. It's among seven Republican-held districts in California that Hillary Clinton won that year — carrying Issa's by 8 percentage points.
His decision not to run for re-election comes the same week that Rep. Ed Royce, the powerful chairman of the House Foreign Affairs Committee and another California Republican whose district includes parts of Orange County, announced his retirement.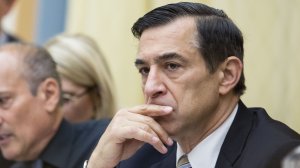 Royce and Issa's districts are both expensive television markets — further stretching national Republicans who are on defense across dozens of districts in the 2018 midterm elections.
Diane Harkey, a former state lawmaker who is now an elected Republican representative on the California State Board of Equalization, a tax administration board, is poised to enter the race, a Republican source said.
Applegate, a retired Marine colonel, and three other Democrats are running: Businessman Paul Kerr, environmental attorney Mike Levin and Sara Jacobs, who worked in foreign policy at the State Department and United Nations.
"California Republicans clearly see the writing on the wall and realize that their party and its priorities are toxic to their re-election chances in 2018," Democratic Congressional Campaign Committee spokesman Drew Godinich said.
In a statement, Rep. Steve Stivers, the National Republican Congressional Committee chairman, said the GOP hopes an expensive and divisive Democratic contest in California's primary will allow the party to hold the seat.
"While Democrats fight with each other, Republicans will focus on fighting Democrats — and that's how we plan to win," Stivers said.
State Assemblyman Todd Gloria, a Democrat who represents San Diego, reacted to Issa's news by applauding volunteers who protested outside of the congressman's office week after week.
Kudos to the passionate and persistent #Flipthe49th volunteers who showed up week after week to protest at Darrell Issa's district office. This wouldn't have happened without your hard work. #CA49 https://t.co/fqpnIIDlxK

— Todd Gloria (@ToddGloria) January 10, 2018