This is an archived article and the information in the article may be outdated. Please look at the time stamp on the story to see when it was last updated.
CHULA VISTA, Calif. – The wait for a carpool lane along Interstate 805 to open is almost over for South Bay commuters.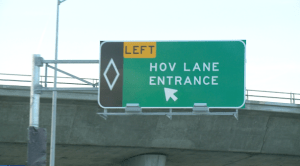 Commuters in South Bay have been waiting for a carpool lane along Interstate 805 to open for the last 18 months.
The I-805 commuter lane has been under construction for the last 18 months and will extend between Palomar Street in Chula Vista and state Route 94.
"This project is part of the new and modern era of transportation system for South Bay," said Ramon Martinez, Caltrans Project Manager. "If you go up to North County, you see things that are similar but for the South Bay it's the first one."
The high-occupancy vehicle "HOV" lane is just a few weeks from opening and it's expected to reduce commute times. While other work remains to be done, the carpool lane itself will open sometime in March.