This is an archived article and the information in the article may be outdated. Please look at the time stamp on the story to see when it was last updated.
SAN DIEGO --  Dozens gathered inside the East African Community Center Saturday to celebrate Alfred Olango's life, the man shot and killed by police in El Cajon.
It was apparent Saturday, the reality of his death hasn't fully set in for those closest to him.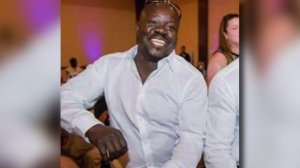 "It's not real to me that my brother Alfred is not with us…and yet we all saw him get buried today. We buried him today…I don't know when I'll come to the realization that Alfred is gone," Olango's brother said.
Olango, a 38-year-old Ugandan refugee , was laid to rest following a private funeral service at Bayview Baptist Church in Encanto. Those who attended the service then gathered to eat, listen to music and reflect on who Olango was and how they must stick together as a community.
The officer involved shooting sparked outrage and protests throughout the community. Olango was unarmed, but police said they mistook his vaping device for a gun when he pulled it out of his pocket and pointed it at them.
"It's a challenging time, a painful time, a grieving time, but all I can say is that we are all in it together," said a community member.
The celebration of life was put together by the Partnership for the Advancement of New Americans.
The shooting remains under investigation by the San Diego County District Attorney's Office and the FBI.