This is an archived article and the information in the article may be outdated. Please look at the time stamp on the story to see when it was last updated.
SAN DIEGO – In light of the recent rash of attacks against women, police presence has increased in North Park.
"There were parked cruisers, as well as them driving up and down the street," said Sean Rogers, resident. "You couldn't walk a couple of blocks without seeing one drive by."
San Diego Police Department officers canvassed the neighborhood Wednesday night, going door to door verbally warning residents about the assaults. They also handed out more than 700 flyers with a picture of the person of interest wanted in connection with the attacks.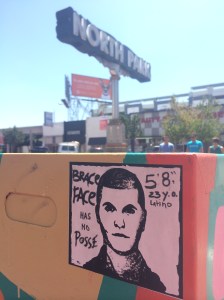 "We believe the suspect possibly lives in that area," said SDPD Lt. Kevin Mayer. "The more people we can reach, the more people that can actually see this photo."
Six violent attacks have happened since June, all of them centered on Lincoln Avenue near Oregon and Kansas Streets, according to police.
"We're using social media, Twitter, Nextdoor.com, we're contacting everybody," said Lt. Mayer. "We think there's enough detail in this picture, that someone will recognize him."
"There was a girl attacked right behind my building," said Jennifer Long.
The woman was the fourth in the assault series. She was attacked in the alley near Long's apartment complex. She was knocked to the ground, struck in the face and left unconscious. Since the attack, Long has taken measures to increase security.
"I've added cameras on the back of building and changed out all the locks," said Long, adding that many of her tenants are young women.
"They're all pretty scared, a whole bunch of them are scared," said Long. "I keep telling all my girls get a tube sock, put 300 pennies in it, put a knot in it," said Long. "You can thump somebody pretty good with that if they attack you."