This is an archived article and the information in the article may be outdated. Please look at the time stamp on the story to see when it was last updated.
SAN DIEGO — Tens of thousands of students are scheduled to start classes at community colleges around San Diego County Monday.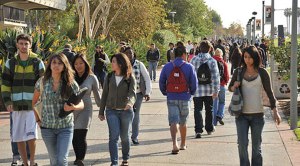 Two colleges will be celebrating significant milestones in the new academic year. San Diego City College will mark its 100th anniversary in 2014, while Mesa College will turn 50.
Around 1 million students have passed through the halls of City College since its founding in 1914, according to its Alumni Association. The college says celebratory events are scheduled throughout the school year.
A golden anniversary event is scheduled at Mesa College on Oct. 19. The school opened in 1964 and was recently named by Community College Week as the fastest growing college in the state.
Including Miramar College and continuing education, around 50,000 students are set to take classes from the San Diego Community College District this semester.
The school year is also set to begin at Cuyamaca College in Rancho San Diego, Grossmont College in El Cajon, Palomar College in San Marcos, and Southwestern College in Chula Vista.
Classes are also set to begin at MiraCosta College campuses in Cardiff by the Sea and Oceanside.