This is an archived article and the information in the article may be outdated. Please look at the time stamp on the story to see when it was last updated.
SAN DIEGO – After years of preparation, the California Coastal Commission will meet Thursday to decide if the $520 million Convention Center expansion plan can move forward.
The expansion plan would add 406,000 square feet including more exhibit, meeting, and a ballroom spaces making the San Diego Convention Center the largest continuous convention center on the West Coast.
"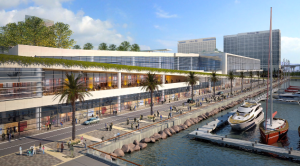 We're expanding to what we call the sweet spot," San Diego Convention Center Board of Directors Chair Phil Blair said. "We're big enough to attract the large conventions, not the huge ones, but the large conventions and be big enough to have to medium size conventions at the same time.  We can't do that now."
Leaders in labor, business, tourism and government came together to show their support for the plan last month.
Supporters say that would boost tourism by attracting 25 more major conventions and trade shows a year.
"Every San Diegan should support this project," Interim Mayor Todd Gloria said. "It's $700 million, $13.5 million in revenue to the city and those are dollars I can put towards your neighborhood to pave your street, hire police officers and firefighters."
Last month, the staff of the Coastal Commission recommended denial of the expansion project because it would result in "significant impacts to views, visual quality and coastal recreation through the substantial loss of already limited waterfront area and open space."
City officials have been negotiating with commission staffers to resolve the issues ahead of Thursday's hearing in Mission Valley. While the funding plan is being challenged in court, the Coastal Commission approval represents the project's final regulatory hurdle.
The Chargers have proposed linking a smaller expansion project with the construction of a football stadium in the East Village, which could also supply space for conventions. They said their plans could be a fallback if the commission rejects the current plan.
The plan the Coastal Commission will consider on October 10 at 8:30 a.m. would also include a five-acre public park.