This is an archived article and the information in the article may be outdated. Please look at the time stamp on the story to see when it was last updated.
SAN DIEGO — The main part of the 44th annual Comic-Con International pop culture extravaganza began Thursday at the San Diego Convention Center, with anniversary tributes honoring three popular television programs.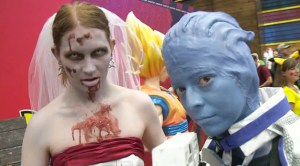 A celebration of the 35th anniversary of "Battlestar Galactica" showcased actor Richard Hatch, who played Capt. Apollo, and director Michael Nankin.
At 3:30 p.m., TV Guide will honor the 20th anniversary of "The X Files" with scheduled appearances by actors Gillian Anderson and David Duchovny. The two played FBI Special Agents Mulder and Scully, who investigated unsolved paranormal cases. Series creator Chris Carter and several writers and producers are also set to participate.
A forum on the 10th anniversary of AMC's "The Walking Dead" is set for 4:15 p.m., with series creator Robert Kirkman.
Also Thursday, Roseanne Barr and William Shatner are scheduled to appear at a noon session on TV Land programs.
The convention will also offer sessions on writing and comic art, and hordes of attendees will appear in outlandish costumes.
ComicCon began as a small gathering of comic book enthusiasts but has grown over the years to include Hollywood films and television programs. It now attracts 126,000 attendees, the largest annual show at the convention center.
Prepaid parking at the convention center and Hilton Bayfront Hotel is sold out.
Free shuttles round-the-clock beginning at 5 a.m. Thursday through Sunday at 7 p.m. between the convention center and hotels in downtown San Diego, Mission Valley, Harbor Island and Shelter Island.
Trolley riders can park for free at Qualcomm Stadium. Free trolley parking will also be available on the ground level at Hazard Center Thursday and Friday nights — and all day Saturday and Sunday.
North County attendees are encouraged to use the North County Transit District's Coaster train.