This is an archived article and the information in the article may be outdated. Please look at the time stamp on the story to see when it was last updated.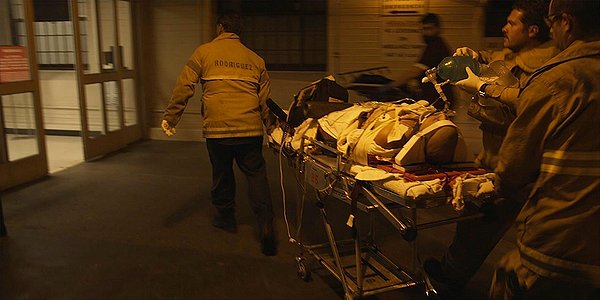 I'm not so sure what the distributors are thinking in releasing this documentary into theatres. It would've been a good segment on Frontline, 20/20, or 60 Minutes – but asking people to see a piece that tells us how flawed the medical field can be…
The cameras role at the Los Angeles County General Hospital, and the place is crowded. It also gets bloody. A few of the scenes I couldn't handle.
Ryan McGarry is a doctor/filmmaker that had access while he was a resident here and sure, there's some compelling footage. Yet when they talk about how crowded the waiting room gets (they call that "code black"), it's not something you hadn't already considered. So when the movie talks about the flaws in the system, you're preaching to the choir.
The film worked better when we hear from the doctors and see photos of them growing up, and what brought them into this field. One Asian kid would be spanked by his father if he didn't get A's in school. The dad was rather happy when he chose the medical field. The spankings stopped and encouragement began. Another doctor lost his best friend in a car accident. The stories are all fascinating and we can see how these doctors slowly lose their passion for working in this field. There's talk about how extensive the paperwork is. Not necessarily because you want to make sure the patient is as well taken care of, but they're trying to cover their butts in case of a lawsuit.
There are some brief discussions about Obamacare, and idealistic doctors telling us how it's about doing what is right. When one doctor explains how if we aren't giving a poor person healthcare because "We don't want to have to pay for it," we end up paying for it when he gets into the ER, and it's a lot more expensive than preventative measures. Again, this is all stuff we knew.
The director can claim this isn't a political film, but it kind of is. I have no problem with that. My problem is that they're asking me to sit through an 80 minute documentary that sheds very little light on anything. The fly on the wall aspects of being in the hospital only takes me so far on the enjoyment scale. I would've rather heard more back stories on the doctors. They should've also cut out every scene showing them sitting at a table laughing at Applebee's. That added nothing and felt amateurish.
This is a documentary that will only appeal to a small portion of the population. If you want to catch it, it may only be at the Gaslamp Reading for a week, so head down there.
It gets 2 stars out of 5.