This is an archived article and the information in the article may be outdated. Please look at the time stamp on the story to see when it was last updated.
SAN DIEGO — The California Coastal Commission is scheduled to consider Thursday the city of San Diego's ban on humans at the Children's Pool in La Jolla during harbor seal pupping season.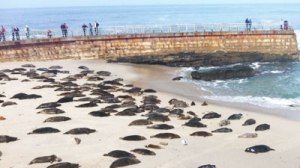 The City Council passed the prohibition in March, but it hasn't taken effect, pending action by the commission, which is in the midst of four days of meetings at the Catamaran Resort in Pacific Beach. Commission staff supports the restrictions.
The City Council passed the law after a rope barrier failed to keep people from bothering the seals and their offspring.
The new plan prohibits people from the beach from Dec. 15 to May 15, the traditional breeding season for the seals. The rope barrier will be up the rest of the year.
The Children's Pool was deeded to the city in 1931 to be a safe swimming spot for youngsters. Seals moved into the area in the 1990s and have become the focus of a dispute between animal-rights supporters and beach-access advocates.
The public would still be allowed access to the area's breakwater for walking, fishing or viewing the seals. The city plans to install a chain across the stairs to the beach, however.
Councilwoman Sherri Lightner, who represents the area, was one of three dissenting City Council votes and plans to attend the Coastal Commission meeting, according to her spokeswoman.
Opponents contend the seal population is exploding and that they are not a threatened or endangered species. Supporters of the closure, however, said harbor seals require a sandy beach during pupping season, and cannot make use of nearby rocks like sea lions can.