This is an archived article and the information in the article may be outdated. Please look at the time stamp on the story to see when it was last updated.
SAN DIEGO - The Coast Guard and San Diego lifeguards continued their search for a swimmer who was reported missing Sunday afternoon near Ocean Beach.
At 11:40 p.m., watchstanders at Coast Guard Sector San Diego were notified by San Diego Lifeguards that they were searching for 23 year-old Brian Wilson, who was reported missing around 5:20 p.m., after being separated from his friend.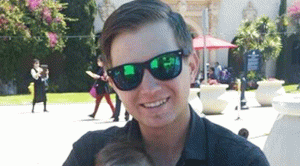 The Coast Guard Cutter Petrel was diverted from a routine patrol and conducted a search throughout the night. The Petrel continued to assist in the search Monday.
A 45-foot Coast Guard response boat and an MH-60 Jayhawk helicopter began searching at first-light.
San Diego lifeguards continued their search efforts.
"It is a very dangerous place to swim – there are no lifeguards here," said Lt. Andy Lerum. "By the time lifeguards were called, there was a delay of 30 minutes from when the person went missing."
Dive crews along with a helicopter crew were called to assist with the search.
"Because the surf is elevated – search conditions were poor – there was very little visibility under water. Our divers had a hard time seeing anything," said Lerum.
If nothing comes of the searches Monday night, both the Coast Guard and San Diego Lifeguards will resume the search Tuesday.
"If we continue with this no news today we're definitely going to come back tomorrow searching. I know the Coast guard advised me they're going to be doing one more helo search today, they're going to have their Coast Guard Cutter Petrel out throughout the evening searching and into tomorrow. And lifeguards will do surface searches with vessels and land searches, foot patrols and also vehicle patrols."  Said San Diego Lifeguard Lt. Rich Stropky.
Anyone with information is requested to contact the Joint Harbor Operations Center at 619-278-7057.
https://twitter.com/sandiegonewz/status/638402193771462656/photo/1